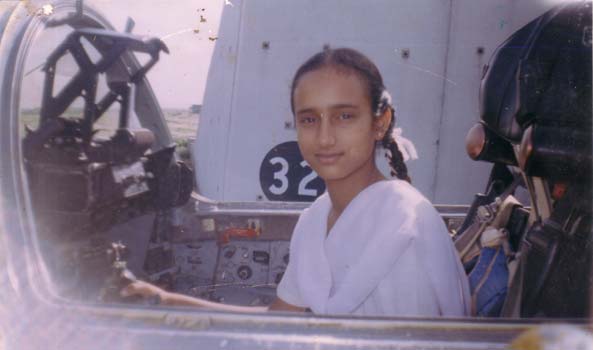 National Students Science Seminar Contestant of "Powered Flight" Vandita Salat practically seated in Mig 21
Activities

Our school is throbbing with activites to bring our the hidden talents of students whether its physical ability, skill, or intellectual talent.

This school has produced many doctors engineers and other professionals as well as sports girls who have reached international and national levels. Yoga, Judo, Gymnassium, mediatation and skill developing activities are continuous process along with learning here.
| | |
| --- | --- |
| Recycling of paper in Science Fair | International Volley-Ball Player Kena Dholakia |
| | |

Speech and Debate is an activity composed of various categories...Each category- extemp, oral interpretation of literature, and scinece, among others-gives students a chance to utilize and improve their verbal skills, reasoning abilities, and poise. In addition to local tournaments, students sometimes travel to away tournaments, as well as to State and National Championships.
Krupa Nanda Conducting Science Quest

Many cultural activities are held in the school. Acitivites like rakhi making, rangoli to card desinging, cultural dance to showing cultural heritage of area are held. Students are encourgaed to take participation in local as well as state & national level championship.
Little Girls Exhibiting Rural Culture
Rally for awarness by Primary Boys.
"Wate is Precious. Save it"


Many other activites like disaster management training, paintings, science fair, and many more activities are also conducted in the school.

Social Welfare Activities

– Charity begins at home. We have "Mukti Panth" box to help the needy students with unifroms, books and fees.
– During Natural calamities such as famine we have distributed food grains, clothes, cement tanks and fodder for cattle to the interior village.
– We have also given fruits and medicines to the patients at times.
– During the last 15 years the school has arranged and provided a sum of 15 lacks to the mankind and cattle, affected by famines and natural calamities.
– Our school has collected a fund of one lack eleven thousand rupees for cancer hit people, for cancer institute WIA, Adyar, Chennai.